Obama gun control push backfires as industry sees unprecedented surge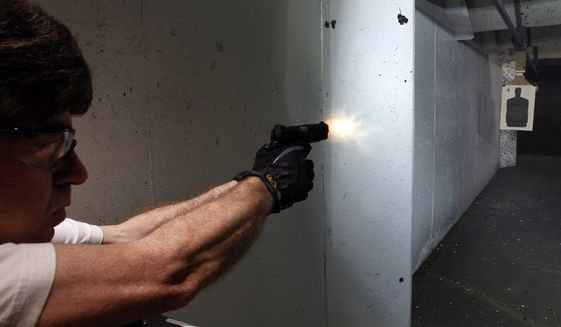 By Stephen Dinan – The Washington Times 
The American firearms industry is as healthy as ever, seeing an unprecedented surge that has sent production of guns soaring to more than 10.8 million manufactured in 2013 alone — double the total of just three years earlier.
The 2013 surge — the latest for which the government has figures — came in the first full year after the December 2012 shooting at Sandy Hook Elementary School, signaling that the push for stricter gun controls, strongly backed by President Obama, did little to chill the industry despite the passage of stricter laws in states such as New York, Maryland, Connecticut and California.
Indeed, interest in guns appears to be at an all-time high in California, which shattered its previous record for gun-purchase background checks last month, with nearly 200,000 processed, suggesting a vibrant firearms market in the country's largest state.
Industry backers say they aren't surprised firearms buyers and manufacturers alike have responded to the national gun control debate by making and purchasing more.
"The surge in firearms sales in 2013 reflects both a long-term upward trend in shooting sports participation and [a] particular concern that year that law-abiding gun owners and those interested in purchasing a firearm for the first time could face tougher restrictions affecting access to and selection of firearms," said Mike Bazinet, spokesman for the National Shooting Sports Foundation, an industry group.
Little more than two years after the Sandy Hook shooting, which claimed the lives of 20 schoolchildren and six faculty at the school, the staying power of the industry is striking.
Despite Mr. Obama's personal appeal for stricter laws, efforts to impose new background checks and to ban military-style rifles and high-capacity ammunition magazines failed at the federal level in 2013. The Democratic-led Senate blocked those changes in a filibuster, and the GOP-controlled House never even took up any legislation.
Mr. Obama was left to move ahead on his own, signing more than two dozen executive orders and memos tweaking federal enforcement priorities, urging safe gun ownership and boosting the focus on mental health. He also nominated B. Todd Jones to be director of the Bureau of Alcohol, Tobacco, Firearms and Explosives (ATF) — but two years later, Mr. Jones has quit the agency after a bungled effort to ban a popular type of rifle ammunition.
Some states did move forward in the wake of Newtown, including Connecticut, where Sandy Hook was located. Colorado, Maryland, New York and California also enacted restrictions.
Still to be seen is what effect those tougher state laws will have on manufacturers. Several companies signaled they would flee states where they no longer felt welcome and shift production to states that are seen as more gun-friendly, but those moves came too late to be reflected in the 2013 data, which is the most recent available. ATF releases data after a one-year gap.
Beretta, which produced nearly 350,000 firearms at its Accokeek, Maryland, plant in 2013, said last year it is moving to Tennessee.
A spokeswoman for the company didn't return a call seeking comment.
Several gun control groups also didn't respond to messages seeking comment on the manufacturing statistics and what they mean for the state of the debate.
Surging under Obama
The biggest change in production has come under President Obama. From 2001 to 2007, gun production held steady at between 3 million and 4 million units a year. It topped 4 million in 2008 but shot to 5.6 million in 2009, held steady in 2010 and then spiked to 8.6 million guns in 2012 and a record 10.8 million in 2013, according to ATF data.
Comments
comments